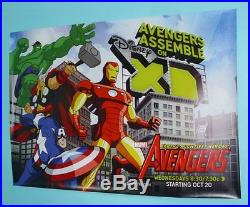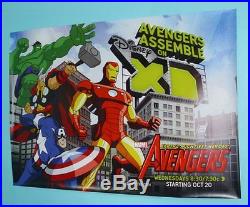 CONTINENTAL USA BUYERS ONLY FOR THIS LISTING, DUE TO THE SIZE OF THIS GIANT 68 BY 47 INCH AVENGERS PROMOTIONAL POSTER. SEE MANY MORE RARE COMIC POSTERS IN OUR OTHER LISTINGS! This is an original. And VERY RARE WALL SIZED AVENGERS PROMOTIONAL POSTER THAT WAS NEVER FOR SALE TO THE PUBLIC! This monster sized Avengers promo poster (or banner) measures about. 68 inches by 47 inches. And was produced for retailers to display and advertise the Avengers animated series cartoon on Disney television. 5 foot 8 inches wide (ie 5′ 8) by 3 foot 11 inches high. This giant-size Avengers superhero promo poster/banner. WAS NEVER FOR SALE. To the public, it was. MADE IN SMALL QUANTITIES, and it's EXTREMELY RARE! It features the familiar figures of Avengers tv cartoon super-heroes THE INCREDIBLE HULK, the norse god of thunder THE MIGHTY THOR, the sentinel of liberty CAPTAIN AMERICA, and the super powered armor of THE INVINCIBLE IRON MAN! Fans of the recent Avengers movie are bound to love this monster sized promo poster, and it would make the perfect surprise birthday gift (or any occasion) for that special Avenger fan you know. Walt Disney's the owner of the Marvel Comics franchise now, of course. Each of the 4 Mighty Avenger heroes are shown in fantastic action poses and in glorious color. The enchanted uru hammer of Thor and the shield of Captian America almost pop out of the poster at you, and who could forget the Invincible Ironman and the Incredible Hulk! The artwork on this massive poster is sensational, and the art looks even better in person. Except for the Marvel movie posters that were released for movie theaters, bus-stops, and billboards, this has got to be one of the biggest Marvel Universe posters ever, except for the 6 foot Marvelmania or Merry Marvel Marching Society MMMS door poster of the Amazing Spider-man released way back in 1966. This Disney XD Avengers animated cartoon promotional display poster has. NEVER BEEN DISPLAYED BEFORE, and it's in VERY FINE/NEAR MINT CONDITION. (using comic book grading terms). There may just be some minor little crinkles here and there, which is normal for a poster so gigantic in stature. As mentioned above, this Earth's Mightiest Heroes Avengers animation cartoons poster measures about 68 inches by 47 inches, which is about 5 foot 8 inches wide by 3 foot 11 inches high. The Walt Disney Company often produced their various movie theater promo posters and movie banners in this size. I'm not 100 percent sure if this poster is made of vinyl material, but it is VERY high quality material in any case. And just when you thought it couldn't get any better, THIS Mighty Avengers X-D Disney promo poster is ROLLED and was NEVER FOLDED like most promotional posters are. This description is (C) RLC. PLEASE READ TERMS BELOW. THIS IS A CONTINENTAL USA ONLY LISTING, due to the giant size and heaviness of this item. The item "68×47 Avengers XD Marvel cartoon promo posterIron Man/Captain America/Hulk/Thor" is in sale since Tuesday, November 29, 2016. This item is in the category "Collectibles\Comics\Posters". The seller is "supervator" and is located in New York!. This item can be shipped to United States.
ITEM: GIANT MARVEL PROMOTIONAL POSTER
BRAND: MARVEL
CHARACTER: AVENGERS
SIZE: A GIGANTIC 68 INCHES BY 47 INCHES!